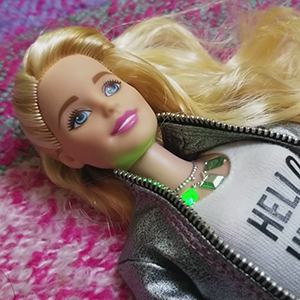 Hello Barbie tests the limits of Mattel's first AI Barbie that was launched as part of a growing trend of AI toys in 2015. Barbie can converse with her owner and generate tailored statements. Because she is wifi-enabled, she can stay up-to-date with what's going on in the world. Hello Barbie records everything she hears in order to add to her repertoire. She remembers everything you tell her and can recall this information in future conversations. Unlike friends who you have to say goodbye to at the end of the day, you can take Barbie to bed with you and talk to her until you fall asleep. The potential for constant contact and lack of regular social contexts expedites trust building. In this video, her promises are tested against her realities and I point towards the ways in which she is just like any other Barbie doll, regardless of her hardware update.
Hello Barbie is installed in front of Fembots & Cyborgs wallpaper, pointing to the doll's predecessors and cousins.
As of summer 2019, the doll is defunct.
Installation photo by Jonas Blume.